Kingdom: Animalia
Phylum: Arthropoda
Subphylum: Crustacea
Class: Maxillopoda
Subclass: Copepoda
Order: Poecilostomatoida
Family: Rhynchomolgidae
Scientific name: Doridicola agilis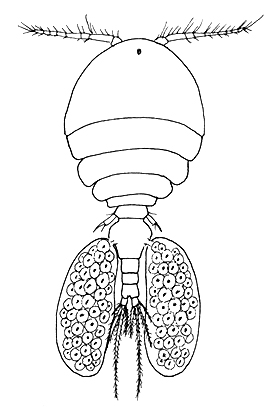 Characteristics:
The body length is usually no more than 1-2 mm. To the naked eye it looks like one or three colored blobs. In the latter case, you are looking at a female with two bags of eggs. The color is usually red, brown, orange, yellow or white.
Habitat:
These are parasites, often observed on nudibranchs.
Distribution:
It is quite common in the North Sea, including Norway, the British Isles and the coasts of central Europe.